Semirechensk Cavalry
Information about the Semirechensk units fielded is rather slight. It seems all cavalry in the Host army was Cossack or native.
1st Semirechensk Cossack Regiment
| | | | |
| --- | --- | --- | --- |
| | | | |
| Officer in WWI parade uniform | Trooper WWI parade dress | Trooper field dress | Trooper field dress with ermakovka blouse |
The Host colour for the Semirechensk was "raspberry", often translated as crimson in texts. That means that these Cossacks were basically identical, apart from ciphers, with the Urals Cossacks.
As a recent Branch of the Siberian Cossacks, the Semirechensk Host shared many features, including the fondness for the ermakovka pattern blouse.
Uniform Details
| | | | |
| --- | --- | --- | --- |
| Full dress uniform 1913 pattern | Shoulderboards: Corporal | Shoulderboards: trooper field version | Greatcoat collar tabs |
Dress shoulderboards were raspberry. Buttons and officer lace were silver. Officer's monogram and rank markings were in gold, and for troopers in yellow.
Field shoulderboards had the number stencilled or inked in dark blue.
In order to be distinguished from the Urals Cossacks, the regiment number was followed by "Cм" (but not "Cm", which is Ct).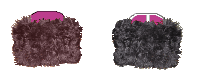 The furazhka peaked cap had blue crown and raspberry band and piping. The papakha had a raspberry cloth with a white/silver cross for officers. The field version was plain khaki, although officers might have a cross in white.
The full dress uniform is shown as seen on both the Ataman and Deputy Ataman for the Civil War. Given the small size of the Host, it is likely it was commanded in person by the Ataman or his deputy and they would be dressed this way.
History in the RCW
The Semirechensk Cossacks initially fought in partisan groupings, but in September 1918 the 1st Regiment was formed, to fight alongside the 5th Siberian Rifle Division. Short of officers at their formation, they seconded some Siberian Cossacks from the 3rd Siberian Cossack Regiment, but they grew fast.
On 13 October 1918 the 1st Semirechensk Cossack Regiment had 29 officers, 910 sabres and 4 machine-guns.
By May 1919 a 2nd and 3rd Semirechensk Cossack Regiment followed, to be grouped into a brigade under Ataman Ionov. The Brigade fought through to the dispersion of the Host in March 1920.
Flags
The Imperial 1st and 3rd Semirechensk Cossack Regiments had been given Nikolais:

The 2nd Regiment had a much older style flag, showing the Host's origins as part of the Siberian Host: the top half was green, bottom raspberry; with a red cross in radiant gold light in the middle:

The official WWI battle standard was a raspberry square with the unit's number in yellow. This style of flag was definitely carried over into the RCW in other hosts (admittedly with quite a lot of deviation in lettering and edging) and there is a mention of raspberry flags in the RCW.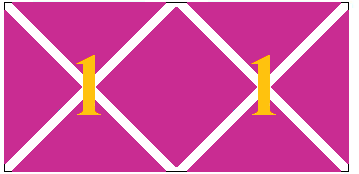 Imperial sotnia flags had raspberry on top, with a white bar to distinguish from the Urals Host, and sotnia colours underneath:

Photos
There are very few photos from the Semirechensk Cossacks of this period.