Polish 1st Army in August 1920
This is the visual organisation charts. The full order of battle with numbers is here (pdf).
Organisation Charts
This is the official structure of an infantry division.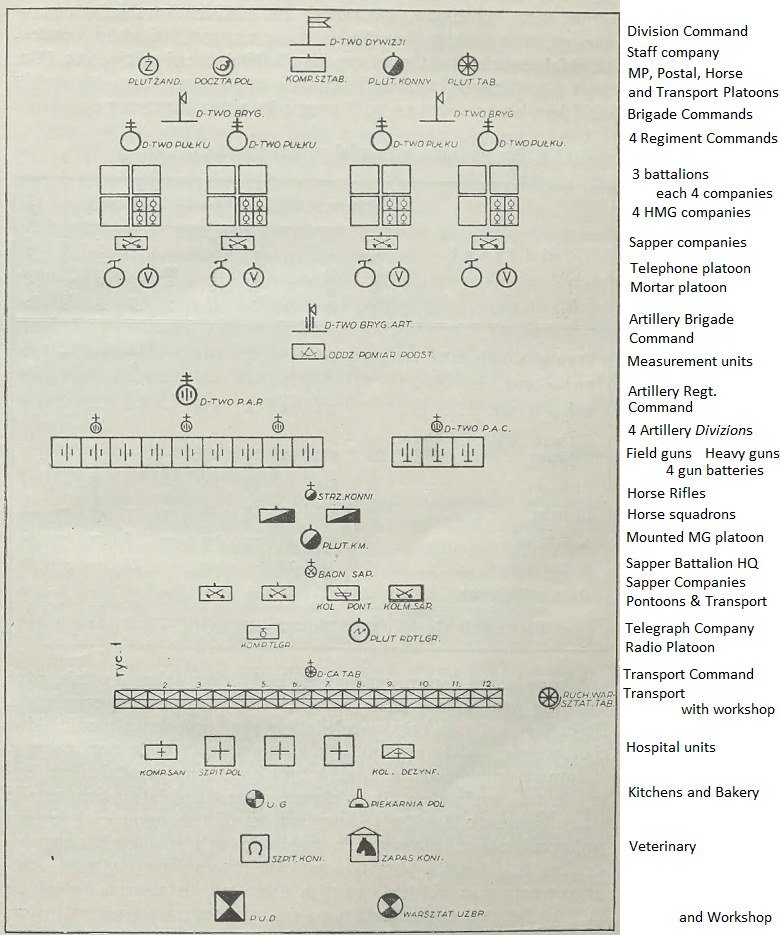 Each Infantry Regiment has an official strength of:
Staff of 2 officers (with further admin of 3 officers, 50 men, 14 horses)
Signals Platoon, of 1 officer, 151 men, 17 horses.
Technical (Sapper) Company, of 6 officers, 158 riflemen, 44 others, 24 horses.
3 Battalions, each with a staff and 4 companies (companies were three platoons, each of four sections).
The combat strength of each battalion was 18 officers, 661 riflemen, with 8 LMGs. There were a further 3 officers and 151 men, some of whom may have been with the LMGs, and 62 horses.
4 HMG companies, each of 5 officers and 117 men, with 8 HMGs, and 26 horses (often attached one HMG company to each rifle battalion and one with the staff).
Mortar unit, of 2 officers and 87 men, with 6 mortars and 27 horses.
(Note that there is no equivalent for a Polish cavalry division, as they were merely two brigades placed together with no extra structure. Even the brigades were little more than three or so regiments with some artillery.)
As the actual divisions below show, there were many deviations from official structure.