Ussuri Cossack Uniforms
The Ussuri "Host" Army was really just Ataman Kalmykov's personal army, and most of its members were not Ussuri Cossacks. Nevertheless, they were named and dressed as if they were.
Ussuri Cossack Regiment
| | | | |
| --- | --- | --- | --- |
| Re-enactors in Ussuri dress | Officer, full dress | Private wearing British uniform | Papakha: men and officers |
The colour of the Ussuri Host was yellow, with green as a second colour to distinguish it (reversed from the Amur Host).
The standard texts give the cap as piped yellow, as the modern Cossack shows, but green is possible, as the lower one has.
Kalmykov happily stole material destined for Kolchak, so his troops would have quickly often dressed in Allied equipment. He was also heavily supplied by the Japanese.
Uniform Details
| | | | |
| --- | --- | --- | --- |
| | | | |
| Sleeve patch | Shoulderboards: Sergeant | Shoulderboards: field side | Greatcoat tabs |
In WWI the shoulderboards were yellow, with green piping and red cipher. Khaki ones had the cipher in dark blue. Officer buttons and lace were silver, with rank markings and cipher in gold.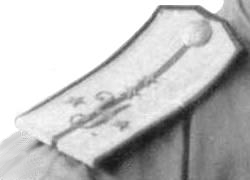 The cipher was "У" (the Russian U) with a number if required. Historically, as we can see to the left, the У was quite heavily stylised with bit loops on the top and bottom. That would be the style one would expect on any flags or other symbols.
There is discussion of Kalmykov's units at kolchakiya.ru which suggests that the shortage of material meant plain yellow shoulderboards were normal.
The sleeve patch with a К was meant to be only for men who had served in the original OKO in 1918. From Kalmykov's orders forbidding its use, it seems likely that many men used it who shouldn't have.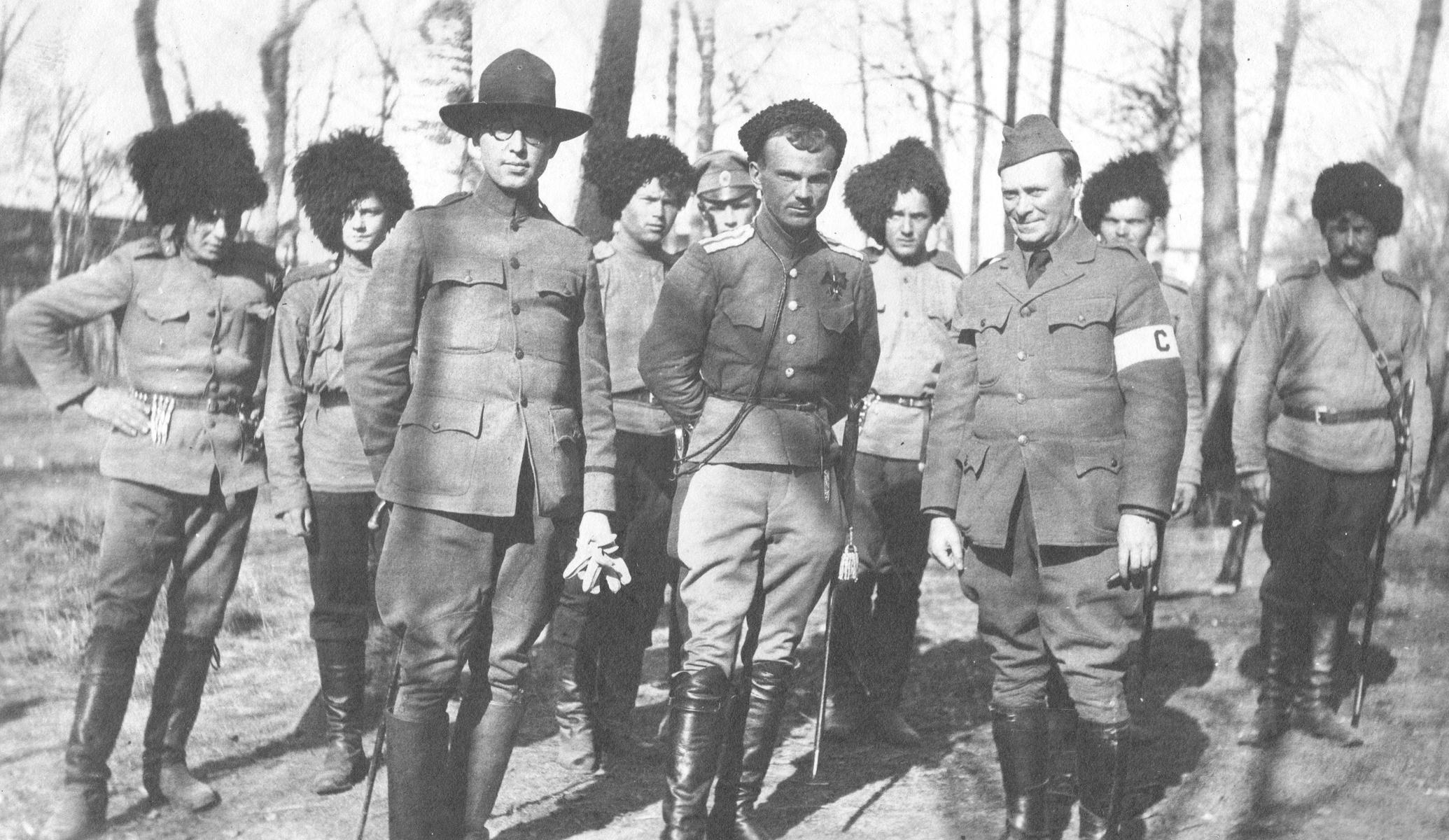 The above photograph, which is of Ataman Kalmykov between two US soldiers, and some of his Cossacks behind, does not suggest the shoulderboards were piped. Note that they have dark Cossack trousers (except the one on the left, who appears to be wearing a modified Allied top). The decoration on the thin belts seems to have been quite popular in the far East.
Flags
The WWI battle flags were green with a diagonal yellow cross, and the unit number in the middle.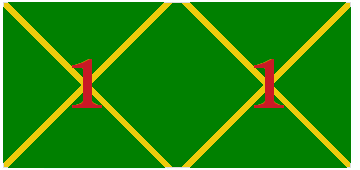 The sotnias would have been marked by banners with yellow over sotnia colour, with a green band in the yellow:

Other Troops
The Ussuri plastoons would have dressed more or less the same, but with gold for all metal, and black crosses on the officer papakhas.
Artillery probably dressed in a uniform based on Tsarist artillery uniforms, even when Cossack. The shoulderboards as kolchakiya.ru suggest that they were marked black on yellow cloth. If so, it suggests a shortage of the appropriate colours (yellow on red).