Other Orenburg Units
Other units with the Orenburg Army.
Orenburg Artillery
Until the retreat to the Turgay Steppe in early 1918 there was almost no artillery, but a store there supplied a few guns and some ammunition. However at no time was the Host well endowed. Most batteries were horse batteries, and very was little heavy artillery.
If they followed the WWI pattern, Cossack gunners would have worn the standard artillery uniform (see the Don Artillery).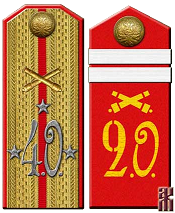 To the left is the kolchakiya.ru reconstruction for a lieutenant in the 4th Orenburg Cossack Battery and a corporal in the 2nd Orenburg Cossack Battery. Imperial practice was for the cipher to be in gold for the officer, not silver (rank stars were in silver though).
Horse batteries would be the same, but piped around the outside in dark blue.
Artillery for the rifle and infantry units would be basically similar, yellow/gold on red with a crossed cannons for artillery but with Siberian Rifles adding a "Сб.C." after their number.
Field versions were the same ciphers but marked red for foot and heavy artillery, light blue for horse artillery and raspberry for rifle artillery.
Ataman Dutov's Bodyguard
Ataman Dutov made his name before the revolution and was quite popular in the Host throughout the Civil War. However he did have some internal enemies not happy with his politics and his life was always at risk. Like many rulers he felt that a bodyguard from another ethnic group would be more reliable, and his was Kirghiz.
This sotnia was only ever a few men, 60-odd at the start of 1919, but their exotic nature makes them a favourite with uniform sites and books. The uniform was a mix of traditional and Russian elements: a fur hat with large red cloth crown, a khaki beshmet with bullet holders, plain red shoulderboards, baggy trousers and boots.
A scheme can be seen at kolchakiya.ru. The most famous photo of a member of the unit can be seen in the White Osprey on page 36 (it has the usual mistranslation of "convoy" instead of "escort" or "bodyguard").
Kirghiz and Kazakhs
Apart from the Ataman's bodyguard the Orenburg Host was able to recruit a few more Kirghiz to fight with them. It helped that they could use ethnic Tatar and Nogai officers from the Host, removing many of the cultural obstacles.
In December 1918 the SouthWestern Army had the 1st Kirghiz Cavalry Regiment, consisting of 4 sotnias with 523 sabres and 2 MGs.
A Kirghiz "Green Banner" divizion, recruited in defence of Islam, is listed sometimes in Semirechye with the Orenburg Host.
Most Kazakhs and Kirghiz however remained aloof, like their separatist group the Alash Orda, whose area bordered the Orenburg to the south.
Note that the Russians at the time did not distinguish between Kazakhs and Kirghiz, apparently using the two terms interchangeably. This can make tracking who did what very difficult.