Orenburg Infantry
The Orenburg army got most of its infantry from non-Cossack sources. Some were ex-KOMUCH and some were lent by the Siberian regime, in return for Orenburg Cossack cavalry regiments. Only a handful were labeled as "plastoon".
6thSyzran Rifle Regiment
| | | | |
| --- | --- | --- | --- |
| | | | |
| Lieutenant in People's Army official uniform | Ex-Imperial mixed with People's Army uniform | Corporal in People's Army official uniform | Private in field dress |
The dress of this unit is speculative, based on the unit retaining their People's Army uniform after the death of KOMUCH. Basically it is an Imperial uniform stripped of almost all marking. The cockade is a strip of St George tape.
The shoulderboards, since they did not indicate rank or branch of service, were simple khaki with a number in yellow. Ranks were marked with shoulder patches, as depicted at kolchakiya.ru, in a style very similar to the Czech Legion. Branch of service were marked on the top of the shoulder patch with crossed rifles for scouts, an MG for machine-gunners, crossed cannons for artillery and crossed swords and outer orange piping for cavalry.
Supply was a major issue for all Orenburg units, so the men were probably not grandly dressed. Former officers were known to like their old Imperial trappings.
History in the RCW
The 6th Syzran Regiment was part of the 2nd Rifle Division, which was easily the most important infantry element that fought consistently with the Orenburg Host. Originally formed in July 1918 as part of KOMUCH People's Army in the Syzran area from four volunteer infantry regiments/battalions and a cavalry regiment.
Over time it absorbed various small units, including among others the 1st Syzran Partisan Detachment, an automobile company, some heavy artillery and, most amusingly, the Menshevik "Defenders of the Constituent Assembly" Detachment who marched under red banners and refused any Imperial trappings.
It became part of the 4th Orenburg Corps with Kolchak's reorganisation in December 1918.
2nd Rifle Division in January 1919 (from White Guard Almanac #8):
5th Syzran Rifle Regiment – 3 battalions, 506 bayonets, 16 MGs
6th Syzran Rifle Regiment – 1 battalion, 217 bayonets, 11 MGs
7th Khvalinsk Rifle Regiment – 1 battalion, 240 bayonets, 5 MGs
8th Volga Rifle Regiment – 2 battalions, 578 bayonets, 13 MGs

2nd Syzran Cavalry Regiment – 4 sotnias, 280 sabres, 4 MGs

6th Battery of 2nd Rifle Artillery Brigade – 3 guns (3")
4th Battery of 2nd Rifle Artillery Brigade – 2 guns (3")
It fell back to Semirechensk in the great retreat, where it was disbanded in early 1920 and the men merged into other units.
It seems likely, given its origins and consistent position in the front line, that the 5th Rifle Regiment was always a good unit.
Flags
A flag for the 6th Regiment is displayed at the museum of the Chapaev Division:
The raspberry is standard for rifles, as is the cipher, but Tsarist practice would have the inner diamond in orange.
18th Orenburg Rifle Regiment
| | | | |
| --- | --- | --- | --- |
| | | | |
| Officer in parade dress | Officer in field dress | Private in parade dress | Private field dress |
The dress of this unit is based on the Imperial Army Siberian Rifle Regiments. The distinctive colour was "raspberry" so basically the same as the Orenburg Host which it fought alongside.
Again the men were probably very poorly dressed. They were certainly poorly armed.
Uniform Details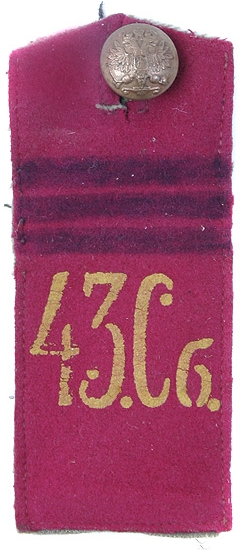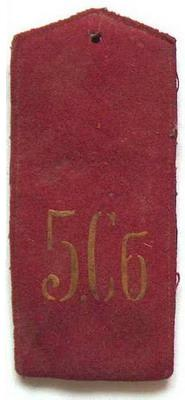 Dress shoulderboards were raspberry. Buttons and officer lace were gold. Officer's monogram and rank markings were in gold, and for troopers in yellow.
To the sides are WWI-era Siberian Rifle pogoni showing a typical yellow stenciling on a raspberry base. The one on the right is redder than usual but in practice it was hard to find the right shade all the time.
(The cipher has a "Сб" to indicate they are Siberian.)
Khaki field shoulderboards had the same cipher stenciled or inked in raspberry.
The Imperial dress furazhka peaked cap was Tsar's green with raspberry piping for officers and khaki with raspberry piping for men. Field ones were plain. It is likely that papakha were worn much of the time in the Civil War.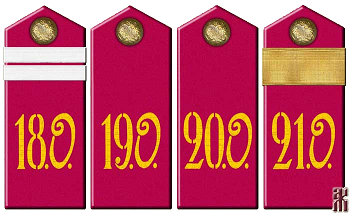 The guess made at seen at kolchakiya.ru for the shoulderboards of the 5th Orenburg Division can be seen at left.
It shows a Corporal, two Privates and a Sergeant-Major of the four different regiments in the division.
The curly "O" is presumably to prevent it looking like a zero, but Imperial practice was for a more normal "O".
History in the RCW
The host created the 18th Orenburg Rifle Regiment as part of the 5th Orenburg Infantry Division in August 1918. It never seems to have grown very large:
5th Rifle Division
18th Orenburg Rifle Regiment – 1 battalion, 77 men, 5 MGs
19th Orenburg Rifle Regiment – 1 battalion, 138 men, 4 MGs
20th Orenburg Rifle Regiment – 36 men, 7 MGs
21th Orenburg Rifle Regiment – 1 battalion, 68 men, 5 MG
It is possible recruitment was slow because it took only non-Cossacks, and the flow of those stopped once the Soviets took the Volga region back.
Ataman Dutov Rifle Regiment
There was an "Ataman Dutov" Volunteer Rifle Regiment recruited, though it always remained small.
The uniform was basically that of Imperial rifles, along the lines of the 18th Regiment above, but with the cipher of "AD". A version can be seen at kolchakiya.ru.
21st Yaitsk Infantry Division
Another unit which fought with the Orenburg Cossacks was the 21st Yaitsk Infantry Division. As the number suggests it was a later formation, probably not taking shape until 1919, but it did take part in the retreat to Semirechensk. It never seems to have been fully formed, with little or no artillery and not much cavalry. In late 1919 each of the four regiments (81st to 84th) had only 200-300 men.
A uniform scheme is given at kolchakiya.ru which is basically men entirely dressed in Chinese uniforms with red shoulderboards.
Plastoons
There were only a couple of Orenburg plastoon regiments, which is odd as the Host had fielded them in the Imperial Army for some time.
The 1st Orenburg Plastoon Regiment was initially in the 1st Orenburg Plastoon Division, but presumably no more regiments could be recruited because the division was disbanded at the end of 1918. It then operated independently, and had 9 companies with 770 bayonets and 11 MGs in January 1919. A new Orenburg Plastoon Division was recreated in the middle of 1919 and the Regiment presumably joined that.
There were briefly 2nd and 3rd Plastoons, but the 3rd at least seems to have been part of the basis of the Composite Orenburg Division in February 1919 (in May 1919 renamed the 9th Sterlitamak Rifle Division).
Presumably these plastoon units followed normal Cossack patterns and wore uniforms with the Host facing colours. If so, the shoulderboards would have been light blue with yellow/gold ciphers and lace, and khaki with dark blue for the field version. The cipher would be the unit number followed by "O.П." for Orenburg Plastoon. Coloured caps and trousers would be as for the cavalry.
There was also an Orenburg Plastoon Divizion in the Far Eastern Army. Most of the men would have been former artillery or cavalry without mounts (few Orenburg infantry were in the retreat, and the survival rate for infantry was very low anyway).
Photos
Some photos of Orenburg Cossacks can be seen here.