Kuban Infantry


This picture has been shrunk to fit. The full version is on the linked photos page.
The Kuban had a long history of fighting on foot, unlike most hosts, and supplied a couple of dozen independent battalions to the Imperial Russian Army during the Great War.
Traditionally Cossack infantry were called "plastoons", sometimes translated as "scouts", but by this period they were mostly used as line infantry.
5th and 6th Kuban Plastoon Battalions
| | | | |
| --- | --- | --- | --- |
| | | | |
| Officer | Trooper: field uniform | Trooper: dress summer uniform | Trooper: summer field uniform |
The basic uniform was that of the cavalry. In fact, as a rule of thumb all Cossacks wanted to serve in the cavalry, as serving in the infantry suggested a lack of money, or at least the lack of a horse. It seems likely therefore that the plastoon battalions were not particularly well kitted out.
While the cherkeska was a practical enough garment for most conditions, in the trenches of WWI it was not always ideal, especially in hot weather. It is common therefore to see WWI Kuban plastoons in what amounts to standard Russian uniforms. One feature is that the blouses were often side-opening, like the traditional beshmet shirt, rather than centre opening like the standard gymnastërka. They sometimes had pockets.
It is speculation, because evidence is slight, but it would seem likely that as the Civil War went on the standards of dress of the plastoons decreased considerably. It might be that many were dressed in non-Caucasian dress, either standard Russian or English uniforms.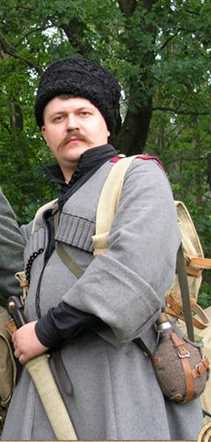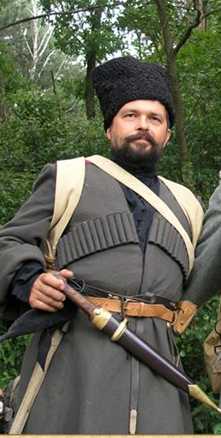 Plastoons mostly carried the same equipment as normal Russian infantry, as these two re-enactors to the sides here show.
The knapsacks were not liked by many of them in WWI as they impeded stealthy movement, but mostly the Civil War era soldiers didn't wear knapsacks anyway, even when serving in the line.
While not generally used in their original role of scouts, the Caucasian plastoons in WWI were often chosen when infiltration was required – the daggers were not only for show. Their style is the same as for their mounted bretheren.
Uniform Details
| | | |
| --- | --- | --- |
| | | |
| Shoulderboards: Praporshchik (Ensign) 5th Kuban Plastoon Battalion | Shoulderboards: Kazak (Private) and Praporshchik | Shoulderboards: Sergeant of 6th Kuban Plastoon Battalion after 1915 |
Shoulderboards were red with yellow stencilling. The field versions were khaki with the cipher stencilled on in dark blue. All buttons, lace and ciphers were in gold.
Ciphers for Kuban plastoons were generally just a simple number. The 6th Battalion however was named in honour of the Tsar in 1915 and given his usual crowned monogram.
| | |
| --- | --- |
| | |
| Shenk has red cross on black for troopers and gold lined red on black for officers. | Re-enactors and modern Kubans use this scheme, with the red and black reversed. |
Shoulderboards were red with yellow stencilling. The field versions were khaki with the cipher stencilled on in dark blue. All buttons, lace and ciphers were in gold.
Like their cavalry, Kuban plastoons seem to have only worn fur hats. While Shenk shows the tops as black with red or red/gold crosses and the Handbook specifies black, we feel that the reversed scheme is more likely based on modern versions. Many hats would be plain khaki in the field anyway, with a white cross for officers. Few men seem to have worn cockades.
There was a furazhka cap, but it was likely only worn by senior officers of non-Cossack extraction.
History in the RCW
During their advance in the 2nd Kuban Campaign the Volunteer Army recruited a large number of Kuban units. These were reorganised in November 1918, and the infantry put into numbered battalions and placed in separate brigades. Oddly, they rarely formed Kuban plastoon divisions.
The 5th Kuban Plastoon Battalion was placed in the 3rd Separate Kuban Plastoon Brigade of the 2nd Kuban Corps. Later it was moved to 1st Kuban Corps and fought with the Caucasian Army. In October 1919 the brigade strength was:
Brigade Commander – Maj-Gen. Khodkevich (temporarily Col. Tsyganok)
1st Kuban Plastoon Battalion – Col. Serafimovich – being brought up to strength in the rear
3rd Kuban Plastoon Battalion – Col. Tsyganov – 721 rifles, 12 MG
5th Kuban Plastoon Battalion – Col. Belyavskiy – 508 rifles, 12 MG
11th Kuban Plastoon Battalion – Col. Mazanko – being brought up to strength in the rear
1st Kuban Plastoon Howitzer Battery – being brought up to strength in the rear (uncertain)
3rd Kuban Plastoon Battery – Staff-Capt Kireev – 3 light cannons
The 6th Kuban Plastoon Battalion started out in the 1st Kuban Cossack Division, a mainly cavalry unit. Some time later, probably late 1918, it was placed in the 1st Separate Kuban Plastoon Brigade. In October 1919 the brigade was in the Forces of the North Caucasus and its strength was:
Brigade Commander – Col Firsov
6th Kuban Plastoon Battalion – Col. Eremenko – 245 rifles, 7 MGs
7th Kuban Plastoon Battalion – Col. Pogodin – 562 rifles, 12 MGs
12th Kuban Plastoon Battalion – Col. Pyata – 800 rifles, 9 MGs
Special Kuban Plastoon Battalion – Col. Rytkovskiy
1st Kuban Platoon Artillery Divizion – Col. Belyy
1st Kuban Plastoon Battery –
4th Kuban Plastoon Battery – 4 light guns
These infantry units found the long retreat from Tsaritsyn and Astrakhan particularly difficult and most probably never made it back to the Kuban before being cut off by the Soviets.
Flags
All the Kuban ceremonial flags were spirited out of Russia during the Civil War, so it seem unlikely that any units fought under Nikolai or St George flags, unless they used replicas. Regardless of model, the Kuban ones were largely red. This is the 6th Battalion's:
The ones for the 2nd, 3rd, 4th and 5th Battalions one were very similar, except the saint could be different.
We know that around this time the 6th Battalion had the flag below (see photos page for the original). It has 6 КП ЕИВ Б standing for 6th Kuban Plastoon (His Imperial Highness) Battalion. Colours are speculative but a red diamond inside blue field seems very likely, since those were official Cossack colours: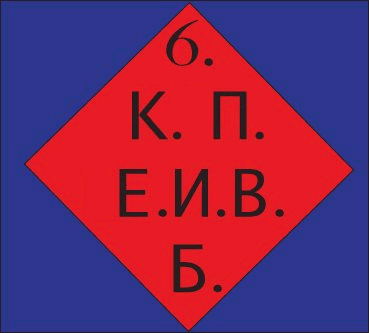 For the Civil War an alternative to using that scheme, one based on the independent Kuban flag, is also likely. This is a suggested one for the 5th Battalion:

Other Kuban Infantry
There were over a dozen separate Kuban plastoon battalions raised by the Whites, and they certainly numbered consecutively up to at least 12. They were grouped into brigades, with essentially random numbering. None appear to have made it to the Crimea.
There was also a "Kuban Rifle Regiment", also called the 1st Rifle Regiment, formed as early as March 1918. However this was a classic "officer" unit of the Volunteer Army, and presumably wore normal infantry uniforms. Initial recruitment was 700 officers, 400 cadets, 60 machine-gunners and only 100 Cossacks. In June 1918 it joined the 1st Infantry Regiment of the Volunteer Army, and then the 2nd ID in January 1919, and so remained with the VA when the Kuban Army was formed. After the retreat to the Crimea it joined the 1st Consolidated Infantry Division, and then in September the 7th ID.
There was a 2nd Kuban Rifle Regiment formed in the Crimea. It may have contained what remained of the Kuban plastoons, but this is only speculation.
Other plastoon units looked identical to the 5th and 6th Battalion shown above, varying only with the number on their shoulderboards. Two others also had special monograms.
The 1st Kuban Plastoon Battalion had been awarded a special emblem in honour of Grand Duke Mikhail Nikolayevich in 1912. This was a crown over a M (see the Kuban Cavalry page for a picture).
The 3rd Battalion was named in honour of the Tsarevich in 1915 and given his rather complicated crowned letter A monogram (see the Terek Cavalry page for a picture).
While many Cossacks were mildly monarchist in the RCW, many were very definitely not. The units with Tsarist monograms may well have gone back to plain numbers.
Non-Kuban Infantry in Kuban Units
Many Kuban Cossack Divisions also had an attached "Rifle Regiment" during 1919. It would seem likely that this was where ex-Reds and other reluctant non-Cossack recruits were placed. It would have been quite hard for them to desert when surrounded by so much cavalry. If we are correct, they would not have been dressed as Kubans.
We have a suggested uniform scheme here for such units.
Photos
We have collected various period photos of Kuban Cossacks on a separate page.